It is not a hidden fact that threats in our cyberspace are continuously evolving. While they are getting sophisticated and complicated over time, a business cannot sit and wait for the attackers to exploit a vulnerability and disrupt an organization's business operations. Absolute security is a state of oblivion and businesses must strive to achieve the maximum possible level of security. As modern-day businesses adopt a multi-fold strategy of measures and solutions to protect their IT infrastructure, they invest in people, processes, and technology to ensure that they are covered from all the ends. In this article, we explore what a SIEM solution is and how it helps our clients in ensuring the security of their technical infrastructure.
What is SIEM?
SIEM stands for Security Information and Event Management. It is an evolution of log management that combines security event management (SEM) and security information management (SIM). The SIM component collects, processes, analyses, and reports on the findings from log data while the SEM component works in real-time to provide threat monitoring, correlation of events, and incident response capabilities.
Objectives of SIEM
A SIEM aggregates log data generated throughout your organization's IT infrastructure, from applications to the network to security devices and host systems. After collecting and analyzing log data, a SIEM solution identifies security incidents and events. Two primary objectives of a SIEM solution are:
To provide reports on security-related events and incidents. For example, failed logins, malware activity, possible malicious activity, login attempts, etc.
Send alerts if an activity is detected as a potential security issue. For example, lateral movement.
What does a SIEM do?
The basic working of a SIEM solution is given explained in this section.
First, it collects data from various sources inside an organization's technical infrastructure.
Second, it aggregates collected data and performs normalization on the datasets. This is followed by data analysis to detect and discover threats.
Third, it allows organizations to configure alert rules based on their security preferences. Logsign SIEM already contains built-in alert rules while it allows our clients to customize them or create new alerts.
Fourth, a SIEM platform allows organizations to configure sending of notification alerts to security team members whenever a security event or incident is detected. For example, the Logsign platform allows our clients to set up notifications through emails and SMS using different templates.
Fifth, a SIEM solution supports advanced search functionality on the collected data. Logsign SIEM facilitates advanced search features along with time analysis and group analysis. Based on the search results, a security expert can export a report.
Sixth, it allows you to define abnormal behavior of assets and users. Whenever a SIEM detects abnormal or unusual behavior, these definitions play a crucial role.
Seventh, it provides a single-pane view of your organization's security posture. This single-pane view is an interactive dashboard that visualizes collected data in the form of charts and graphs. On Logsign SIEM, various dashboards are available across more than 10 categories. Besides, you can also create a new dashboard to display the required data in one place.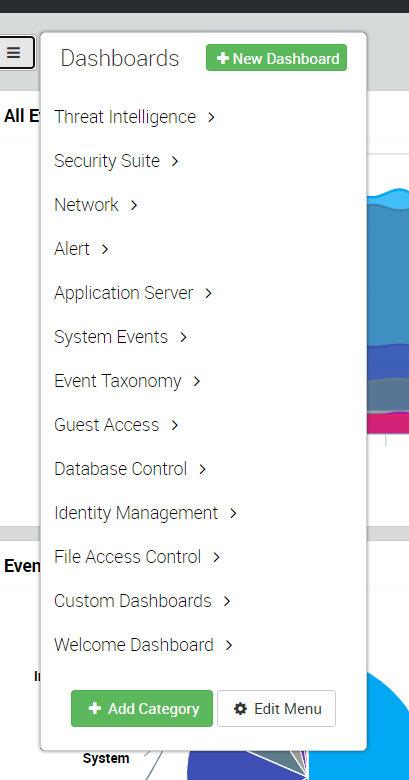 Figure 1: Dashboard categories on Logsign SIEM
Last but not least, it allows the security team to generate different types of reports. On Logsign SIEM, more than 100 types of reports are available for our clients to export and utilize. You can export reports in XML, HTML, and PDF.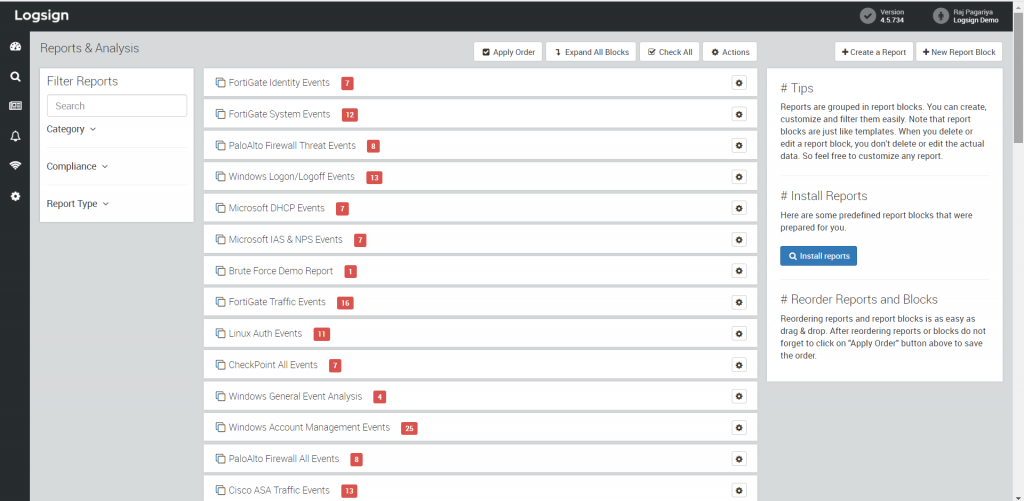 Figure 2: Reports and categories on Logsign platform
Have you been able to derive maximum value from Logsign SIEM? If not, have you identified the areas that our support team can help you with? Irrespective of that, get in touch with our Support team today!