In the previous post, we discussed the basics of SOAR – Security Orchestration, Automation, and Response and how it is becoming a must-have for businesses across the globe. In this post, we will continue our discussion with how an SOAR solution can help an SOC in improvising its operations. Our experts have identified the following ways in which an SOAR solution proves to be beneficial for a business –
[caption id="attachment_449" align="aligncenter" width="661"]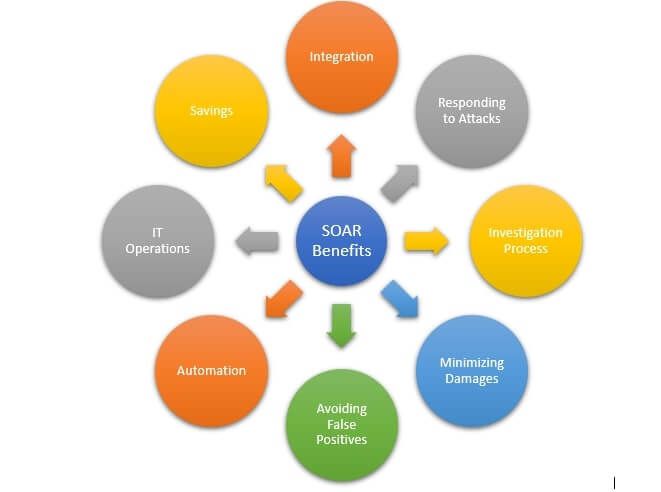 Benefits of SOAR for Security Operation Centre[/caption]
1.      Integration
Many SOCs perform their operations by utilising different tools from different vendors. One of the most common problems faced by a SOC team is the integration of these tools. Many vendors claim that their tool will efficiently integrate with another tool from a different vendor, and this statement turns out to be more of a theoretical thought instead of practical implementation. A SOAR solution addresses this problem by comprehensively integrating with your existing security tools as well as threat intelligence sources.
2.      Responding to Attacks
When a business is under a cyber attack, the phrase time is of essence holds true in its entirety. We are living in the times when a security incident is not a matter of if or but anymore. The disruptive threat landscape has now made it mandatory for an internal security team to be prepared for a security attack, though impliedly. Since a SOAR tool integrates various tools on a single platform, the internal team does not have to go through each tool to check the alerts, thereby effectively increasing the response time to mitigate a security incident.
3.      Investigation Process
A SOAR tool in some sense acts as a unified alert repository for the internal team. It not only makes the investigation process easier but also faster. The internal security team can simply correlate generated alerts and quickly address the root cause.
4.      Minimizing Damages
A SOAR tool is capable of addressing a variety of low-level alerts by itself and it only requires human intervention when the generated alerts compulsorily require human intervention. With immediate response to attacks and easier investigation process, the internal security team can initiate the recovery process to bring the business back on its feet without any unwanted delay.
5.      Avoiding False Positives
Addressing false positives take a significant amount of internal security team's time. It is possible that the continuous generation of false positive alerts may lead to a team member ignoring an actual emergency situation altogether. A SOAR solution fixes this problem by automatically addressing low-level alerts.
6.      Automation
Apart from dealing with false positive alerts, general security procedures such as updating firewalls, adding new users or deleting user data of ex-employees, etc. consume sufficient working hours for a security team. These processes can be automated by a SOAR tool resulting in lesser manual processes for the internal team to look after.
7.      IT Operations
The integration capabilities of an SOAR tool is not only limited to security tools only. They can also be integrated with traditional IT software such as helpdesk management, database management, configuration, etc.
8.      Savings
Often, it is advised that when it comes to cyber security, cost should not be a deciding factor in hiring employees or contracting with a vendor. Following the old saying of precaution is better than care, it is a well-established fact that investing in cyber security triumphs losses incurred due to a security incident on any given day. However, with an SOAR solution, cost savings come as an additional benefit.
Do you think there are any other benefits that we have missed out? Do let us know and we will be more than happy to include it on our list. In the next post, we will be discussing various components of an SOAR solution.